Gutless Vegan Butcher Shop
Summary
This project was a semester long project completed in 4th year, first semester of the Graphic Design for Marketing program at the Wilson School of Design at KPU. After being tasked with selecting an existing or hypothetical marketing situation from which to base our project off of, I chose to create a hypothetical Vegan Butcher Shop located in Vancouver, BC, Canada. I chose to market this towards an unlikely audience —meat-eaters— as a way to assist in making the decision to eat less meat a simple one. My strategy was to create a brand that is humorous, inviting, and unapologetic in its boldness.
Gutless aims to provide delicious, healthy, and easy-to-make meat alternatives to vegans, carnivores and everyone in between all while breaking down walls between these groups to create a inclusive environment centered around the love of food, the earth, and all of its inhabitants.
task
For this project we were tasked with selecting either an existing or hypothetical marketing situation to act as the foundation for this specific design project. The chosen situation should not only be current but also represent a certain opportunity or challenge defined by the development of a creative brief including the following subjects: Situation Summary, Product/Service Offering, Target Market, Competitive Landscape, USP, UVPs, Positioning Strategy, Marketing Objectives,
and Marketing Tactics.
problem definition/need
Although more and more people are choosing to eat less meat or eat-plant based in entirety, terms such as "vegan" or "vegetarian" are still off-putting to consumers which opens up a unique marketing challenge when it comes to attracting consumers to your product. This Marketing Week article published in October 2017 discusses the challenges faced when marketing plant-based proteins and provides statistics on the evolution of eating habits in today's society.
There also seems to be a formation of "culinary cliques" that have developed between vegans and meat-eaters which can create a barrier for vegan businesses who are trying to appeal to omnivores. Not only do some omnivores see vegan food as something bland, tasteless, or unappealing, but some meat-eaters may also have preconceived notions of those who call themselves vegans and vice versa.
strategy
In order to appeal to the specific target market of meat-eaters (or as I have named them:Contentious Carnivores), Gutless will focus on the flavour and quality of their products while communicating in a lighthearted, humorous, yet bold voice. This target audience values the flavour of the product over anything else and do not want to be preached to about any drawbacks of eating animal proteins. To assist in persuading or converting this audience the approach must be welcoming and not take itself too seriously, which can easily turn off prospective customers who may be on the fence about vegan food.
By creating an all-inclusive community focused on the love of food, Gutless will break down judgmental walls one plant-based sausage at a time!
Solution
NAMING
Upon starting this project I focused on choosing the perfect name for what I wanted to communicate and who I was communicating to. Upon researching existing businesses with similar offerings I noticed that many had names that promoted themselves as holier-than-thou with some even taking a religious angle to show how ethically "good" they wished to be perceived. This is something I wanted to avoid completely not only to stand out amongst the competition but also to connect with my chosen target audience. I was enticed by the oxymoron quality of the "vegan butcher shop" so my name exploration progressed in that direction until I came to the realization that it was not going anywhere.
I had narrowed down my choices to a few names, including "Gutless" which was my top pick but I at first I was wary that it might be too descriptive in a negative connotation. Upon realization that there are no risks associated with a school project such as this, I decided to go all the way and chose "Gutless" as the name, which looking back on, I am very glad I did. I decided that though the word gutless is traditionally used as a descriptor for someone who lacks courage or determination, this connotation could evolve in to something to be proud of…having customers enthusiastic about going "Gutless".
IMAGERY
I chose to represent Gutless with a no-nonsense wordmark to let the name speak for itself and to give more power to it. The wordmark was created by adapting two existing fonts to create one unique to Gutless. The supporting imagery of the cow, pig, and rooster are somewhat reminiscent of propaganda posters such as the iconic "Books (Please)! In All Branches of Knowledge" by Alexander Rodchenko. These characters progressed in to somewhat of a crew of mascots to spread the word to "Go Gutless" in a way that isn't overly serious, gives a nod to the traditional butcher shop, but also hints at the idea of giving animals a voice.
The concept of using X's as a visual language stemmed from the idea that "no" or "less" don't have to be bad things; all Gutless products contain NO meat and NO animal by-products.
evaluation
After delivering this project in its final form and completing the presentation to my class and instructors, I received valuable feedback and strong reactions of varying opinions. Though a few people thought the name was too bold and garish, the overall opinion was positive, not only from those who fell within my target market but also with a few vegan and vegetarian individuals. If I was to rework this project in the future I may consider keeping the animal "mascots" reserved for a specific campaign rather than to be used as a constant visual language for the brand. I may also consider changing the hierarchy on the print ads to promote the brand as the main piece of information so as to make it more obvious to new customers.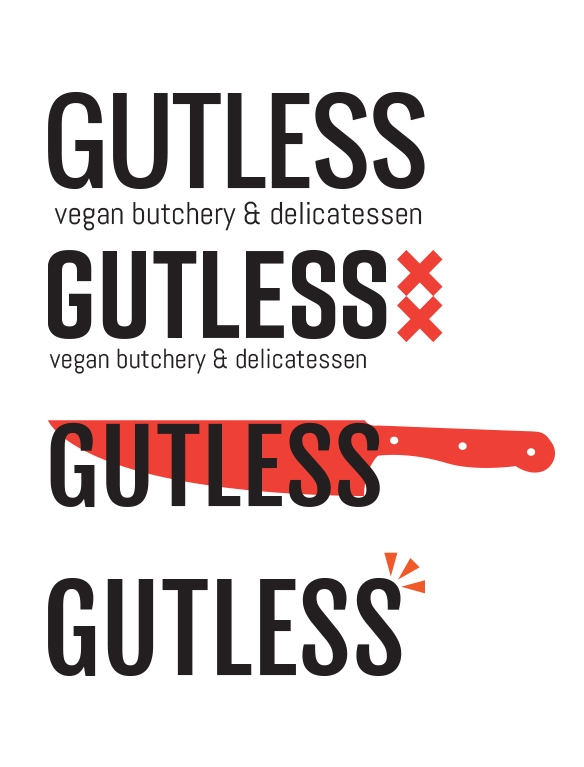 Process
I began my process by brainstorming ideas for names and potential taglines and created a moodboard of inspirational images. I then moved on to logo ideation once the name was selected where I sketched thumbnail concepts and then created digital copies. I also explored the use of icons for use on digital applications though at this time I chose not to use them. For the website I sketched some layout options before creating a digital file but most of my process was completed when in the digital stage.
*This is simply a sampling of my process as I chose to feature only a select number of process pieces.
Acknowledgment
Winner of the Jim Rimmer Community Scholarship for Design Award 2017
Winner of the q30 Design Award for Brand Design in RGD's 2018 Student Awards Program
Honourable Mention in the Gravity Award for Social Good Design in RGD's 2018 Student Awards Program